Say Hello to Fresher, Healthier,
and Younger-Looking Skin.
Anti-aging Collagen Peptides with DigeSEB Plus™ for Maximum Absorption.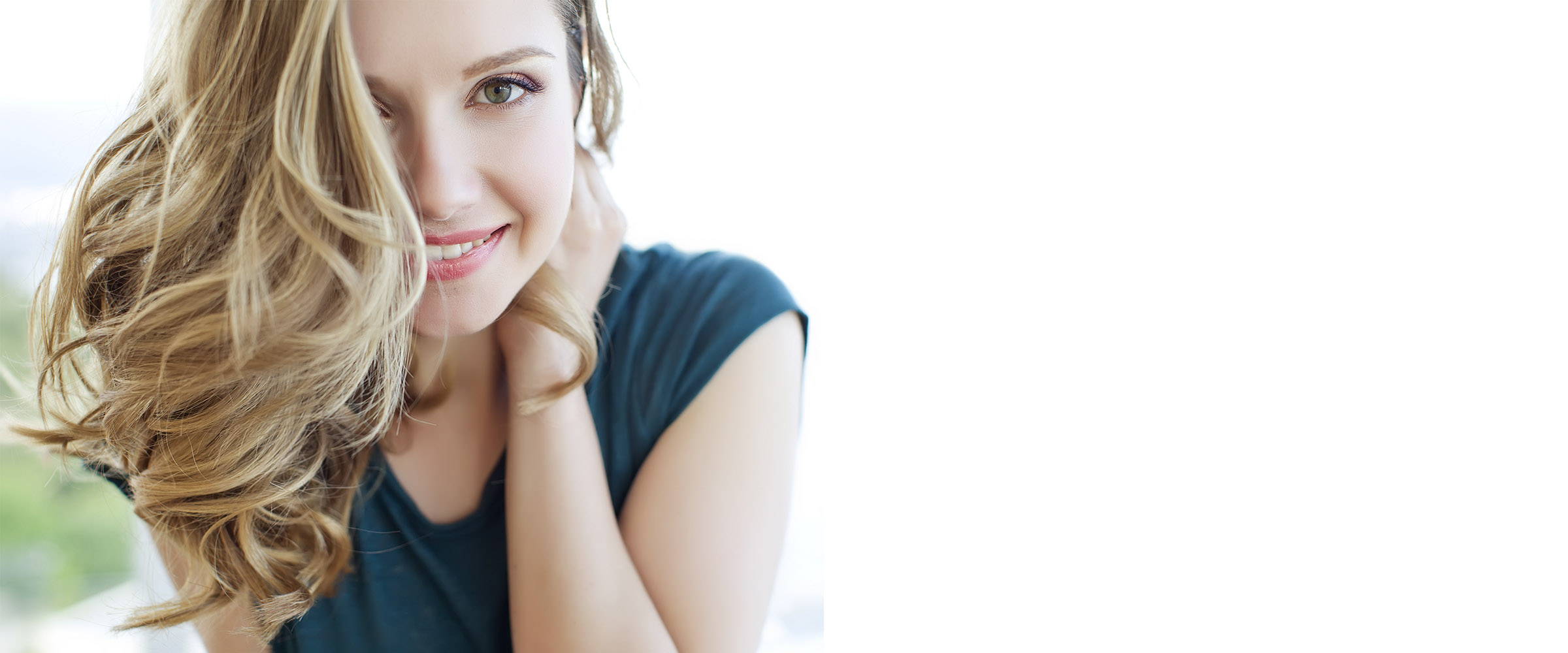 MAX. DELIVERY TIME:
7 DAYS FREE SHIPPING ON ORDERS OVER $50 100% SATISFACTION GUARANTEED

EASY & FREE RETURNS IN 30 DAYS

WHY COLLAGEN MATTERS TO YOUR BODY
Collagen is the most bountiful protein in your body. Found everywhere from skin to muscles to teeth, collagen is the vital substance that holds your body together and gives your connective tissues elasticity, structure, and strength. Collagen production and synthesis dramatically decline with age, menopause, autoimmune disorders, and certain lifestyle factors, such as smoking, high sugar consumption, and overexposure to the sun's UV rays. As collagen decreases, the structural integrity of our skin, bones, ligaments, cartilage, and other connective tissues diminishes.
TOP 5 BENEFITS OF TAKING COLLAGEN SUPPLEMENTS
Collagen supplements are broken down and absorbed by the body, providing multiple cosmetic and health benefits that help you look and feel your best from the inside out.
1. Natural beauty boost - Collagen helps smooth stubborn cellulite and naturally strengthens your hair, nails, and teeth.
2. Anti-aging - Collagen hydrates dry skin, diminishes wrinkles, and improves the structure and elasticity of your skin.
3. Joint and bone health - Collagen reduces joint pain while maintaining your cartilage and bone strength.
4. Muscle growth - Collagen maintains and improves muscle function, growth, and strength.
5. Heart and gut health - Collagen provides supple structure to your arteries and improves digestive health by repairing the gut lining.†
FEED YOUR SKIN WITH NATURAL COLLAGEN FROM WELLUXA™
Beautiful, youthful skin is built from within. That's why Welluxa™ Multi-Collagen Protein Capsules feature a complete matrix of collagen peptide types I, II, III, V and X, sourced from the highest quality natural ingredients. The most comprehensive blend of natural food-sourced collagen proteins, Welluxa™ features bovine bone broth hydrolyzed protein, hydrolyzed fish collagen peptides, chicken bone broth collagen concentrate, and eggshell membrane collagen.
These clinically effective Multi Collagen Protein Capsules from Welluxa™ have been expertly formulated with a special digestive enzyme called DigiSEB Plus™, delivering an absorption rate that is unmatched by any other brand. Absorption is a big problem with collagen supplements, but we've solved this with our superior and advanced blend, which includes collagen peptides types I, II, III, V and X.
Benefits of DigiSEB Plus™
1.) Aids Healthy Digestion
2.) Concentrates Amino Acids
3.) Enhances Absorption
4.) Maximizes Health Benefits
5.) Safe & Natural
6.) Industry-Leading Science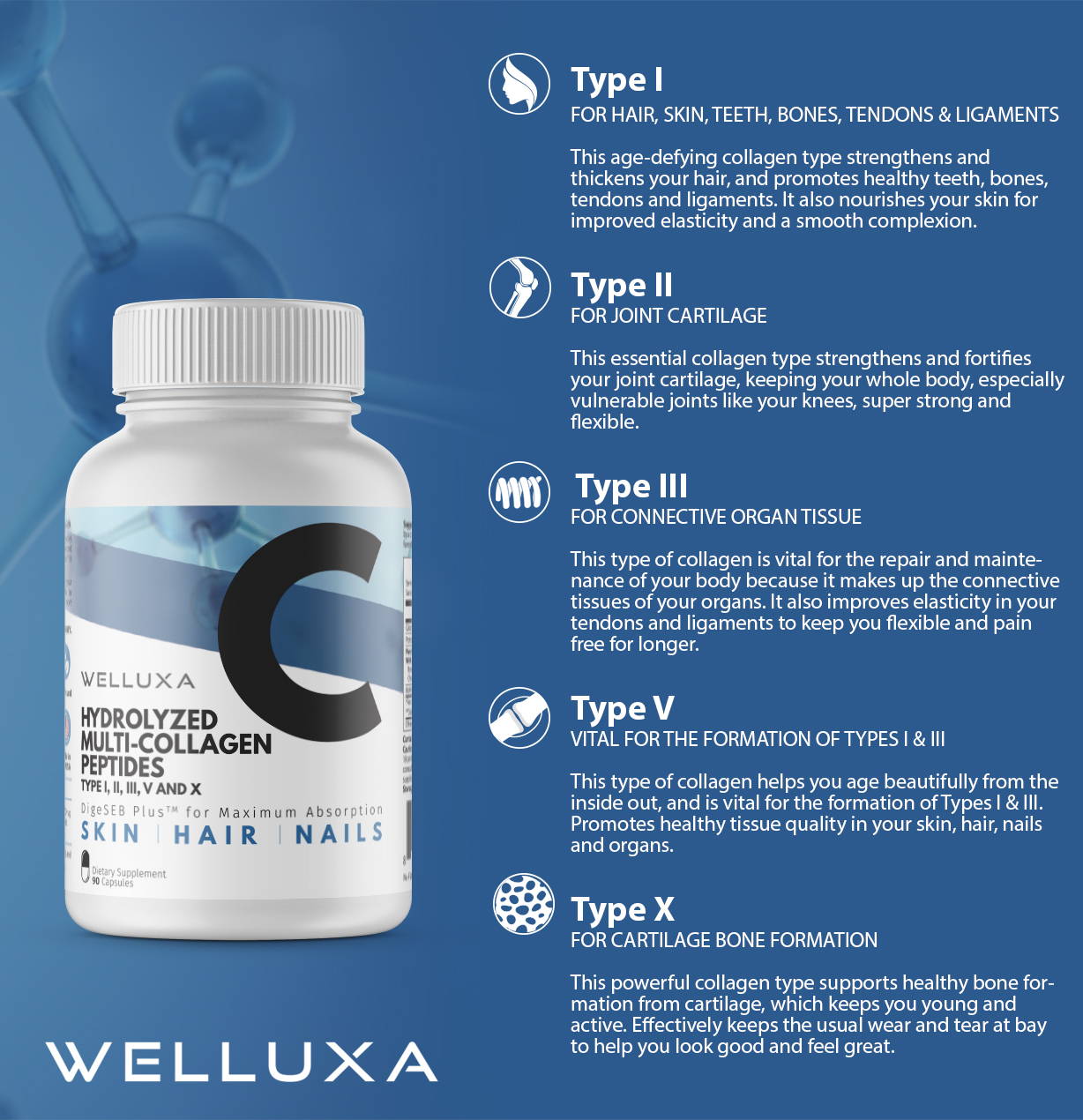 THE 5 TYPES OF COLLAGEN AND THEIR ROLE IN YOUR BODY
Type I: This type accounts for 90% of your body's collagen and is made of densely packed fibers. It provides structure to skin, bones, tendons, fibrous cartilage, connective tissue and teeth.
Type II: This type is made of more loosely packed fibers and is found in elastic cartilage, which cushions joints.
Type III: This type supports the structure of muscles, organs and arteries.
Type V: This type is beneficial mostly for hair, bones, liver, lungs and muscle fibers.
Type X: This type is beneficial mostly for new bone formation in articular cartilage.
WHERE DOES COLLAGEN COME FROM?
Your body loves natural whole foods as much as we do. Dedicated to providing your body with the highest quality, food-sourced ingredients, Welluxa™ collagen is sourced from natural cage-free eggshells and chicken, grass-fed beef, and sustainable wild-caught fish. Proudly made in the USA in a GMP certified facility, Welluxa™ is Non-GMO and naturally keto-friendly, paleo-friendly, and gluten-free. With no fluff or fillers, Welluxa™ does not contain shellfish, milk, tree nuts, peanuts, soy, or wheat.
Cage-free eggshells (Type I and V). Provides structure to your skin, hair, connective tissues, and organs.
Cage-free chicken (Type II and X). Supports joint health and cartilage.
Grass-fed beef (Type I , III, and X). Composes and supports the connective tissues of the skin, muscles, tendons, ligaments, bones, corneas, teeth, gums, and blood vessels.
Wild-caught fish (Type I). Highly absorbable, biocompatible, and rich in amino acids, promotes skin health, regeneration, and strength.†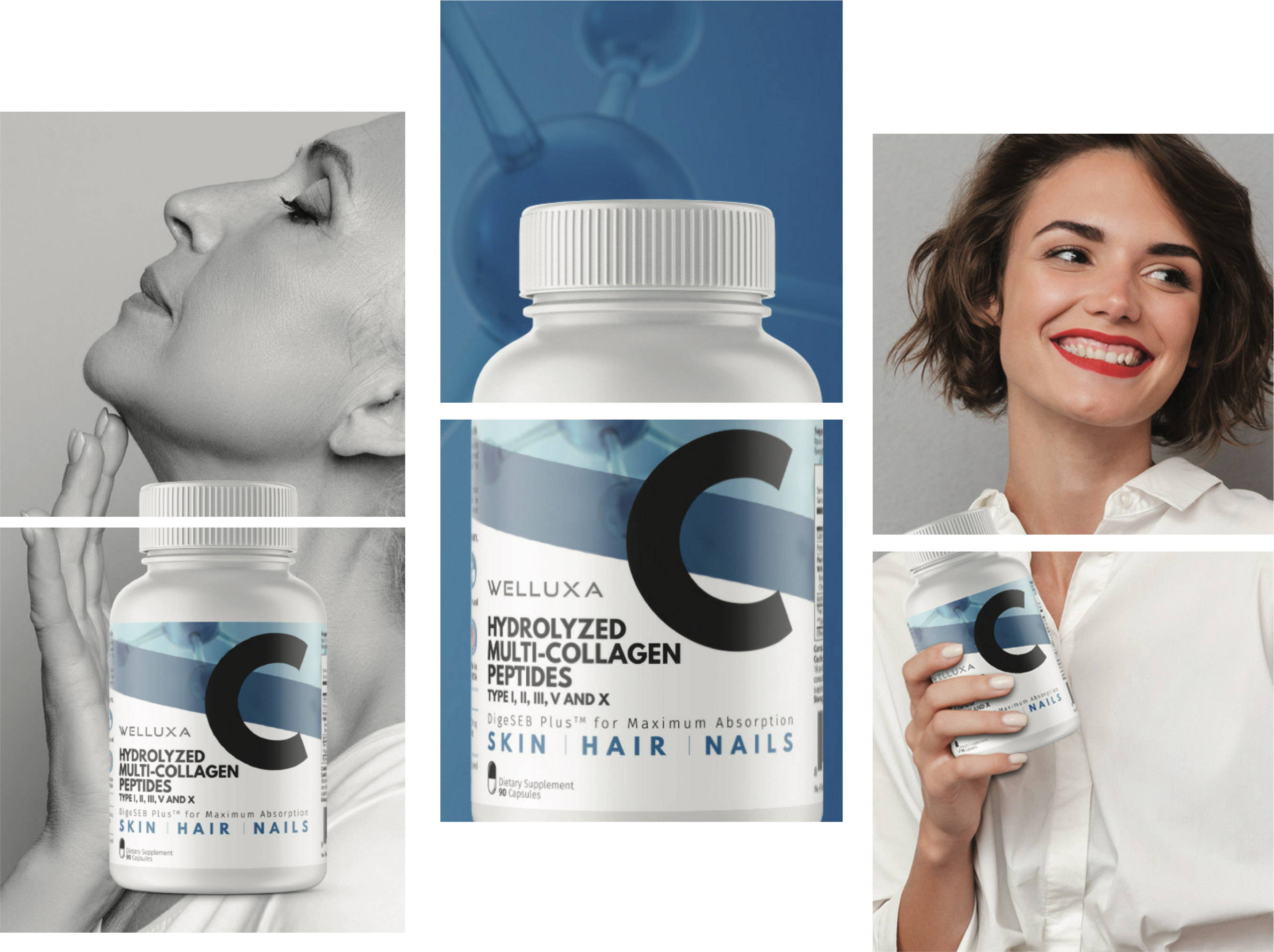 JOIN OUR VIP DISCOUNT CLUB

Subscribe now and get 10% off your first order with Welluxa™. You'll also receive health articles and VIP exclusives, big savings, FREE product giveaways and much more.